Conference Room presentations
The work on the new entrance to the trade fair premises and to the adjacent conference room has now been completed. Forlì will therefore offer, also via the internet, an opportunity for all business, social and political organisations to find new well-equipped spaces where meetings, debates and conferences can be organised.

Already on the occasion of the 7th Shoulder Tech Congress, the international workshop on shoulder surgery which took place on 11 January 2003 at the Palafiera with doctors and scientists from all over the world, the Fiera di Forlì confirmed its ability to take on the challenge alongside other Italian cities that have a long-standing tradition in this sector.

In my view these are important occasions not only for the Fiera itself, but for all operators in the hotel and restaurant sector of the whole area and in Forlì especially. It is a way of showing the traditional hospitality of Romagna, plus a wide range of cultural, environmental and especially gastronomic appealing elements that are unparalleled.

We are therefore confident of our ability to show once again that, even though we started late - and it was not our fault - with respect to the requirements of the most modern trade fairs, we will fill the gap thanks to all the qualities everyone says we have. We have large-scale plans for our town, moving away from traditional ideas.

The modular conference room, designed to seat up to 800 people, the large parking spaces, the completely revamped trade fair premises and the Palafiera, one of the best sports structures in Italy are all part of the services we supply to all those who decide to visit us. Also the trade fair schedule is becoming more and more attractive and full of events.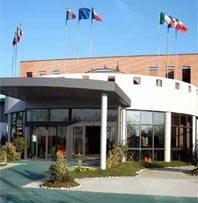 Main entrance to the trade fair premises and conference room in Forlì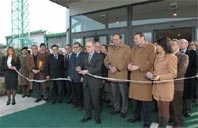 Official inauguration of the main entrance to the fair premises and new conference room